Impressum
Contact
TEO MAHLKNECHT
master sculptor
Rezia Street 288
39046 St.Ulrich (BZ), Italy
Tel.: +39 339 8729124
E-mail: info@byteo.com
PEC-mail: teo.mahlknecht@secure-pec.it Web: http://www.byteo.com/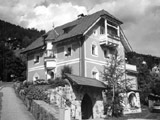 Copyright
Romy des Teo Mahlknecht
Woodworks, sculptures and paintings, artistic painting of buildings - diplomas
Rezia Street 288, I-39046 St.Ulrich (BZ)
VAT: IT02945430219
© 2004-2023, all rights reserved

Hosting, consulting, design, programming: Markus Senoner
Pictures: Egon Dejori, Simon Perathoner, Teo Mahlknecht

Privacy
The processing of personal data (like name, address, e-mail address or phone number) always occurs in accordance with the applicable privacy regulations (EU General Data Protection Regulation no. 679 of 2016)
Responsible for the data-processing: see address above
Collection of general data and information:
At each visit of our website, our webserver records some general data that is stored in the server's logfile. This includes: browser type (user-agent), the linked web page (referrer), the page views, the date and time of access, the IP address, and other technical data necessary for a smooth and secure operation of our webserver. These logs are evaluated automatically for statistical purposes. This anonymously collected data has no relationship to physical persons.
Use of personal data:
We use your address merely to respond to inquiries and send related offers.
We process personal data only for the period necessary for the transaction. Requests received by e-mail or web form are stored until revocation on our pc or on paper and at least until the end of the business relationship or until the fulfillment of legitimate, contractual or other legal obligations (e.g. accounting duties, tax regulations, statutory retention period).
We do not hand out the data to third parties or to countries outside of the EU.
As a small, responsible family business, we refrain from automatic decision-making or profiling.
Rights of the person concerned:
Any person may contact us to obtain information about its data, request the rectification or deletion thereof, demand the restriction of processing, assert the right to transfer or revoke his consent to the processing of personal data. You may contact us anytime to this effect.
Cookie policy
We do not use cookies on this website.
But we used a lot of cheese for our mice.
Youtube-Videos
Videos from Youtube are embedded without cookies and no personal data is being recorded when visiting our website. As soon as you click on the video to play it, more or less data will be sent to Youtube/Google depending whether you are logged in with a Google-Account or not.
More about Google's privacy policy