EN
The Mahlknechts: a family of artists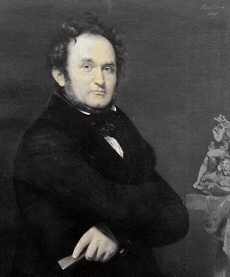 The Rainellhof in St. Ulrich (Gröden) is the birthplace of the Mahlknechts. There the extraordinarily talented Dominik Mahlknecht (1793-1867) first saw the light of day. As a youth he left and went to France: to Lyons, Paris and Nantes in order to get to know the art scene there and to perfect his sculp-ture. At the age of 20, he managed an artistic break-through and from then onwards he was considered one of France's best sculptors. In 1826, King Charles X of France appointed him as the "Sculptor to His Royal Highness".
The exceptionally gifted sculpture painter Luis Mahlknecht (1910-2000), known as Bera Luis da Rainell, originates from the same place. Even as a child he showed great artistic talent that he developed fully and passed on to numerous artists. Some years, he had more than 100 students in his charge. In the 1950s, as a result of his innovative work, he succeeded in introducing glazing and gilding of wood figures with oil-based paint.
Now we have to go back a bit in time in order to work in the second creative thread of the Mahlknecht artists. In the 19th century, Gröden/Val Gherdeina was already one of the largest wood carving centres in the world. Numerous woodcarvers from this valley attended the Academies of Munich and Vienna. Ferdinand Demetz-Furdenan was such an academically trained sculptor. He returned to his homeland and passed on his knowledge in one of the art schools with large workshops. These schools were recognised by the impe-rial government of Vienna.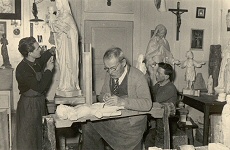 The artistically gifted Virgilio Dorigo (1866-1958), one of the 15 children of the Dorigo Family from Lasta/Fodom, was accepted by Ferdinand Demetz-Furdenan to learn woodcarving. He was creative, hard-working and had found his new homeland in Gröden. He soon became a master sculptor and made an excellent reputation for himself with customers throughout Europe and had especially good contacts in London.
He had a daughter, Augusta, from his marriage to Rosina. Augusta married the bank director and later mayor of St. Ulrich, Franz Prugger. Two of their five children, Gilo und Rosemarie Prugger, especially inherited their grandfa-ther's artistic talent.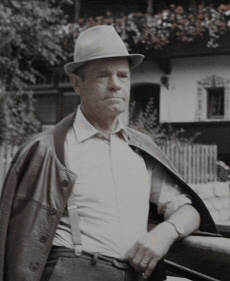 Here the thread begins to interweave. Erich Mahlknecht, one of Bera Luis's sons, married Rosemarie Prugger. Both of them had already started their ar-tistic careers. After finishing the Technical College for Sculpture Painting, the 18-year old Erich had built up his own workshop and was already training apprentices. Rosemarie was already aspiring to make her way in the sector as a freelance artist. After her years of teaching drawing and handicraft and the birth of her children, Teo and Lea, she became a self-employed sculp-tress and sculpture designer with her own collections. In 1978, she founded the wood carving and painting workshop, Romy.
In 1973, Erich took over from his father, Luis Mahlknecht, as sculpture painting master with the company Anri. He trained several dozen painters until he joined the company Romy in 1984. In 1999, after finishing their re-spective training, their daughter Lea (master sculpture painter) and their son Teo (master sculptor) went into the family-run business Romy. As a master sculptor, Teo Mahlknecht is therefore the only descendant of the famous Dominik Mahlknecht da Rainell.
In order to express his creative streak to the full, Teo successfully runs an art studio under his own brand name "Byteo". The bulk of his creative activ-ity lies in making humorously carved unique specimens, often in a fascinat-ing combination using in part the most modern computerised techniques. By doing this, he has entered uncharted waters that have seen him exhibiting his work as far away as Colorado (USA).
Byteo's guiding principle is "Ert y ironia zipleda tl lën", which is Ladin for "Art and irony carved in wood".